SCIONS OF SINAI Single Vineyard Vintage 2020 Release
SCIONS OF SINAI 2020 vintage single vineyard release is here. 
Young Winemaker of the Year
― Tim Atkin South Africa Report 2019
Bernhard's commitment to producing wines that reflect the vineyards his family planted and his mission to preserve his Lower Helderbeg heritage has resulted in a portfolio of wines that are focused, precise and because of this care each wine tells its fascinating story of origin with total clarity.
― Malu Lambert
'Gramadoelas' Grenache Blanc 2020

Bernhard: "A single vineyard in the Klein Karoo (not next to Sinai Hill), a big part of me also grew up around here. This is a wine that goes off script to the known and heritage, and focuses on the horizons of viticulture frontiers in SA. My love for Grenache Blanc came from working in Spain's Montsant and Priorat regions over two vintages. There I realised how similar the ripening climate and soils were to our own backyard Karoo region. Back in SA I started experimenting with planting my own Grenache Blanc in small lots close to Van Wyksdorp in 2015. Later in 2018 I met a farm owner that had actually planted some Grenache Blanc close to the Swartbergs Meiringspoort area (De Rust). Here I got to work with Hannes Vermeulen, the farmer, to rework these previously highly cropped vines. Planted in 2009 on these Schist and shale soils of our Karoo. It's very far away....very. And in the middle of nowhere, between the echoing hills: the 'Gramadoelas'."
'Granietsteen' Chenin Blanc 2020

Bernhard: "We are spoiled with plenty of great old Chenin vines throughout the Cape. What makes Granietsteen a unique Cape vineyard is not just the soil, the aspect, oceanic proximity and vine age, but the synergistic effect of these elements in a combination. Here, at Rustenhof Farm, we have Certified Heritage Vineyard bushvines, dryfarmed on weathered granite soils being frail and more oxidative. The aspect faces East-South East. Planted as contours in 1978 on Sinai Hill, panning out over False Bay at 3.5km away. The closest Chenin in Stellenbosch to the Atlantic."
'Heldervallei' Cinsault 2020

Bernhard: "Bearing such a deep heritage in SA, it makes for a variety I get a lot of fulfilment working with. Especially, like in this case, when the vines are a bit older and dry farmed as bush vines on poor soils. I am delighted to work with Heldervallei as a Certified Single Vineyard, on the cusp of getting its Heritage Vineyard approval. These vines were planted in 1988 by my Uncle, Anton 'Onderplaas' Bredell, on decomposed granite soils, high in quarts with moderately shallow clay for water retention. It has low vigour, and crops far less than Cinsaut normally does. It undergoes just enough stress, but with its face to False Bay at 4 km away makes for pure and bright flavour development. I am grateful to be granted the decision making on the viticulture at Rustenhof (my philosophies are rooted in working mindful with nature to uplift soil health and increase vine vitality)."
Bernhard: "Feniks is a special Pinotage single vineyard I have a particular bias for. This dry farmed, bush vine vineyard was planted in 1976, by Koos and his brother Pieter Bredell. Rooted in sandy, decomposed granite soils high in silica. The duplex clay and koffieklip layer is not much deeper. This, in combination with an early rootstock, and being old vines makes for much earlier flavour ripening on this variety. The upper 'feeder' roots spends much of its time in an oxidised environment, inducing stress, which under cooler oceanic conditions are more sustainable to amplify fruit definition and degrade greenness early on. The deep rooted zone of these old vines are remarkably well set into shale and koffieklip clay with good water retention. The canopy is very limited and leaf area small, making less sugars. The closest Pinotage in SA to the ocean. The bunches are small and conical, like little hand grenades."
Bernhard: "In the Helderberg (as with most of Stellenbosch) finding a bush vine Syrah vineyard is incredibly rare. As my focus lies towards the small vicinity of Sinai Hill it is even more scarce. But here lies one special 0,7Ha bush vine Syrah vineyard, on a farm called 'Seelug'. These vines were planted in 1999 by my grandfather during his retirement and was one of the last, of many, vineyards he got to plant in his life. The clone is SH1A and the roots are settled in well drained, decomposed granite duplex soils, with an abundant koffieklip layer about 1,5m down. The closest Syrah in Stellenbosch to the Atlantic Ocean, at 3.5km."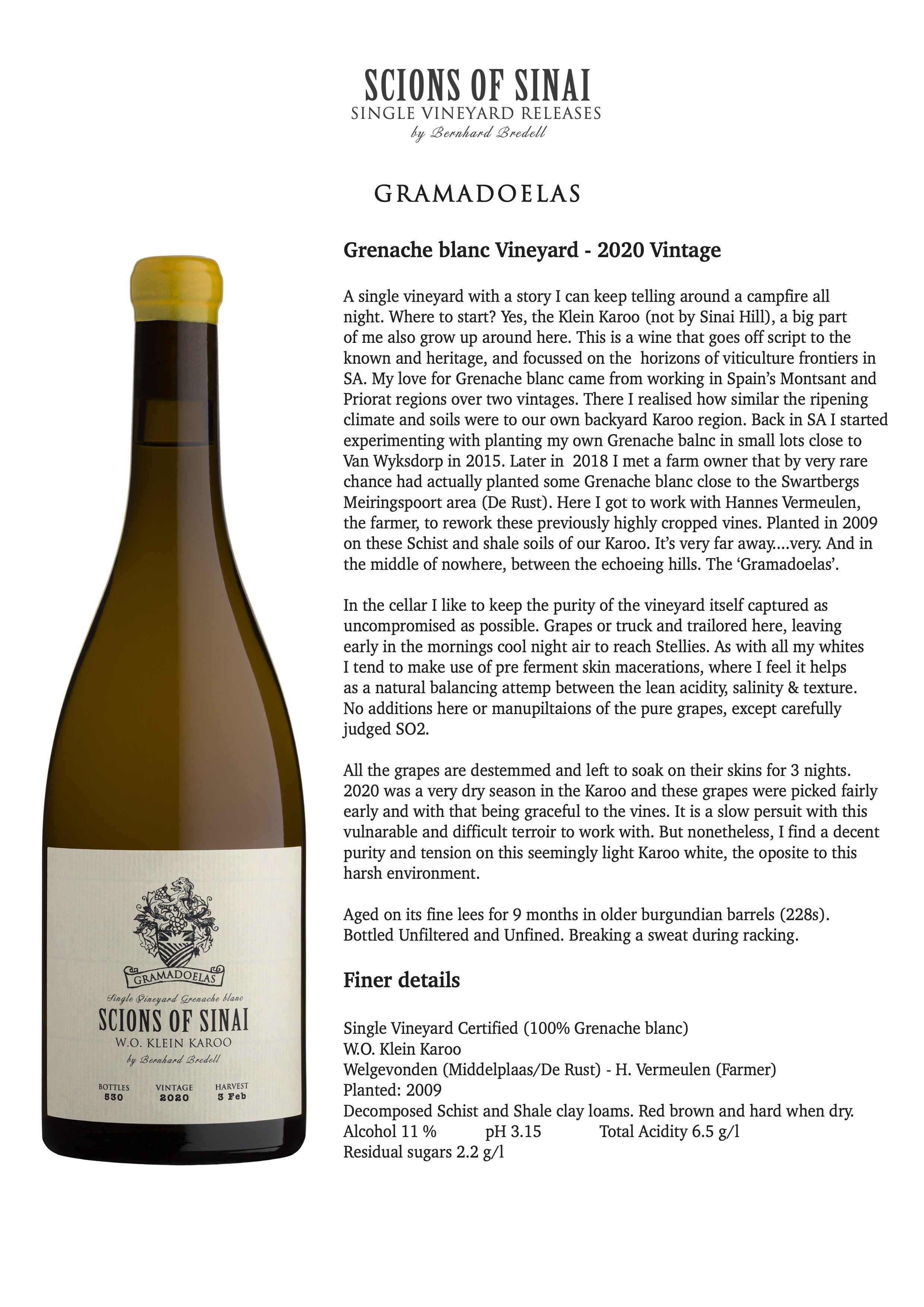 "It's easier to go down a hill than up it but the view is much better at the top."
— Henry Ward Beecher